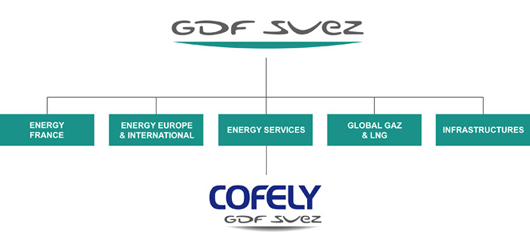 History of GDF SUEZ group dates back to the nineteenth century when it  Societe Generale de Pays Bas was created. As a result of development in 2001, the group changed its name to SUEZ and after the merger in 2008 with the company Gas de France, became GDF SUEZ name.
Year 2015 has set directions for future, what was reflected in the change in the group's image, and change of the name to Engie. Rebranding has been initiated on the biggest market that is France, and will gradually be implemented in other regions.
ENGIE has defined two strategic ambitions based on the creation of long-term value growth:
To become the benchmark energy utility in emerging countries:
by leveraging on its strong positions
in independent power production;
by developing its presence on the gas value chain;
by globalizing its leadership position in energy services.
To be the leader of energy transition in Europe :
by becoming the energy partner of its clients
while promoting energy efficiency;
by being a vector of energy decarbonization
through renewable sources;
by developing new businesses and digitalization.
The three main areas of activity are Power, Gas and Services. In these areas Engie occupies a leading position in the world and in Europe
1. Power
The world's largest independent supplier of electricity
The sixth largest supplier in Europe
115.3 GW of installed power
10.5 GW under construction
2. Gas
The third biggest seller of gas in Europe
The largest distribution network in Europe
3. Services
The world's largest provider of services related to energy efficiency
The operator of 230 metropolitan area networks
140 million sqm of space under management
ENGIE is one of the only companies in the energy sector to commit to a concrete CO2 emission reduction goal. The Group aims to reduce its CO2 emissions by 10% by 2020, across all of its power production–and associated heat production–assets worldwide
More information on www.engie.com/en